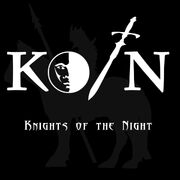 The Knights of the Night are an actual play podcasting group that plays different campaigns and releases the recordings of their sessions with some audio editing to include music and sound effects. KoTN began recording their sessions in late 2010, their first recording being Shit Luck. It was played in The World Of Darkness, and was run by Scott.
Latest Episode
Episode 341 (Dresden Files - FATE) - Lemons From Lemonade
Campaigns
Streets of Avalon - Wednesday Night RPG All Stars

The Players

Fan Creations (Spoilers Ahoy!)
Artwork
Ad blocker interference detected!
Wikia is a free-to-use site that makes money from advertising. We have a modified experience for viewers using ad blockers

Wikia is not accessible if you've made further modifications. Remove the custom ad blocker rule(s) and the page will load as expected.